Staff
When you became my client, you placed your trust in me to help make your vision a reality. I honor that trust with the help of my expert support staff. Together, Monica and I make a strong commitment to customer service.
If at any time you have a question, concern or need, please let us know.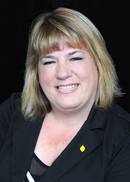 Monica Ward
Monica joined Northwestern Mutual in 1992, and made the move to Karin's team in 2003.  Monica's primary role is in servicing our clients. She takes responsibility for insuring questions and requests are dealt with in a timely and efficient manner. Monica is also involved in other key areas, such as client communications and business processing. Monica's experience is evident in her organized, multi-tasked approach to serving our clients' day-to-day needs.
Please feel free to contact Monica with any questions you  might have.